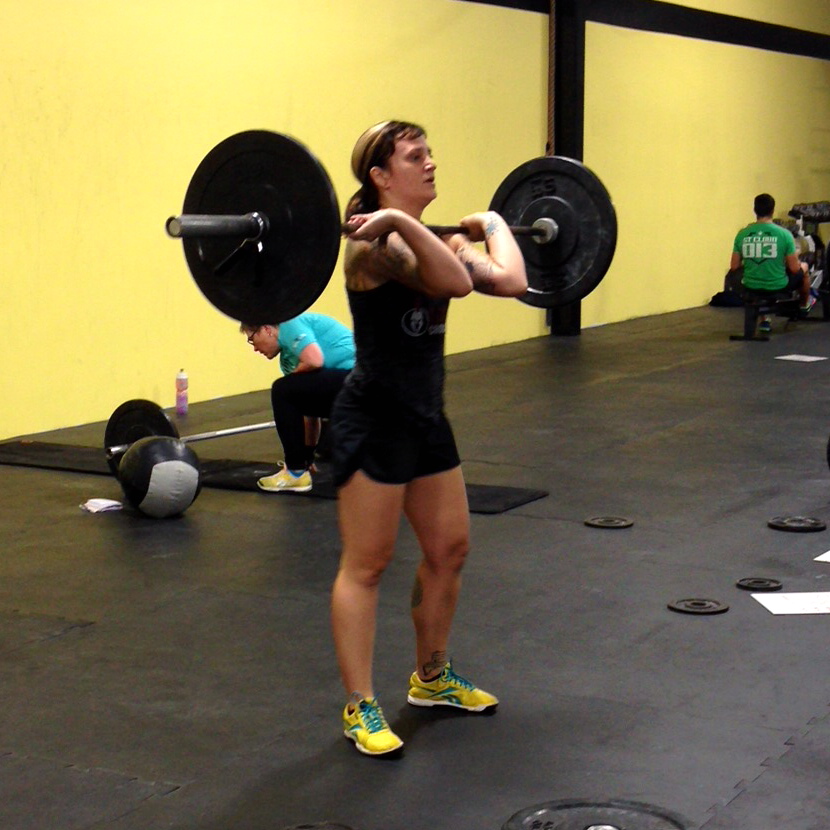 Liz B. nailing some push presses last week. I really appreciate Liz's consistent positive attitude and effort during workouts. She loves getting stronger and wants to keep improving. Good stuff!
---
Fitness

10min AMRAP with a partner:
5 power snatch, 95/65
30 DU

Rest 4 Min

10min AMRAP with a partner:
5 MB burpee wall ball, 20/14 to 10'/9'
75M Sprint (with the MB)

Rest 4min

10min AMRAP with a partner:
3 HSPU
10 KB swings, 24/16kg
15 abmat sit ups
Notes: With only one partner working at a time and alternating complete rounds, accumulate as many rounds as possible in each 10min AMRAP. In part one, if you can't do DU's sub target touches for the same number of reps. For part 2, do a burpee over the top of your med ball (MB between your hands on the floor), you won't be able to do the push-up because the MB is there. As you stand out of the burpee pick up the MB, then drop into a squat and proceed to wall ball. DO NOT MISS THE SQUAT. Picking the MB from the floor and throwing to the wall all in one motion does not count. We need to see a squat. For part 3, if you don't have HSPU's yet then sub 5 hand-release push-ups.
Performance

A. Deadlift, build to a tough 5 TnG (no dropping last rep)
B. Every 30 sec for 10 min: 1 clean and jerk @ 65% of 1rm
C. Every 15 sec for 5 min: 1 PS, 115/75
+
6mins AMRAP @ 155/105:
1 PC + 1 front lunge R + 1 front lunge L + 1 S2OH = 1rep
(DEMO if you're confused)
Notes:
- record 5rm
- squat clean and split jerk; go into the SJ quickly
- PS should be quick and snappy each rep
- record total reps