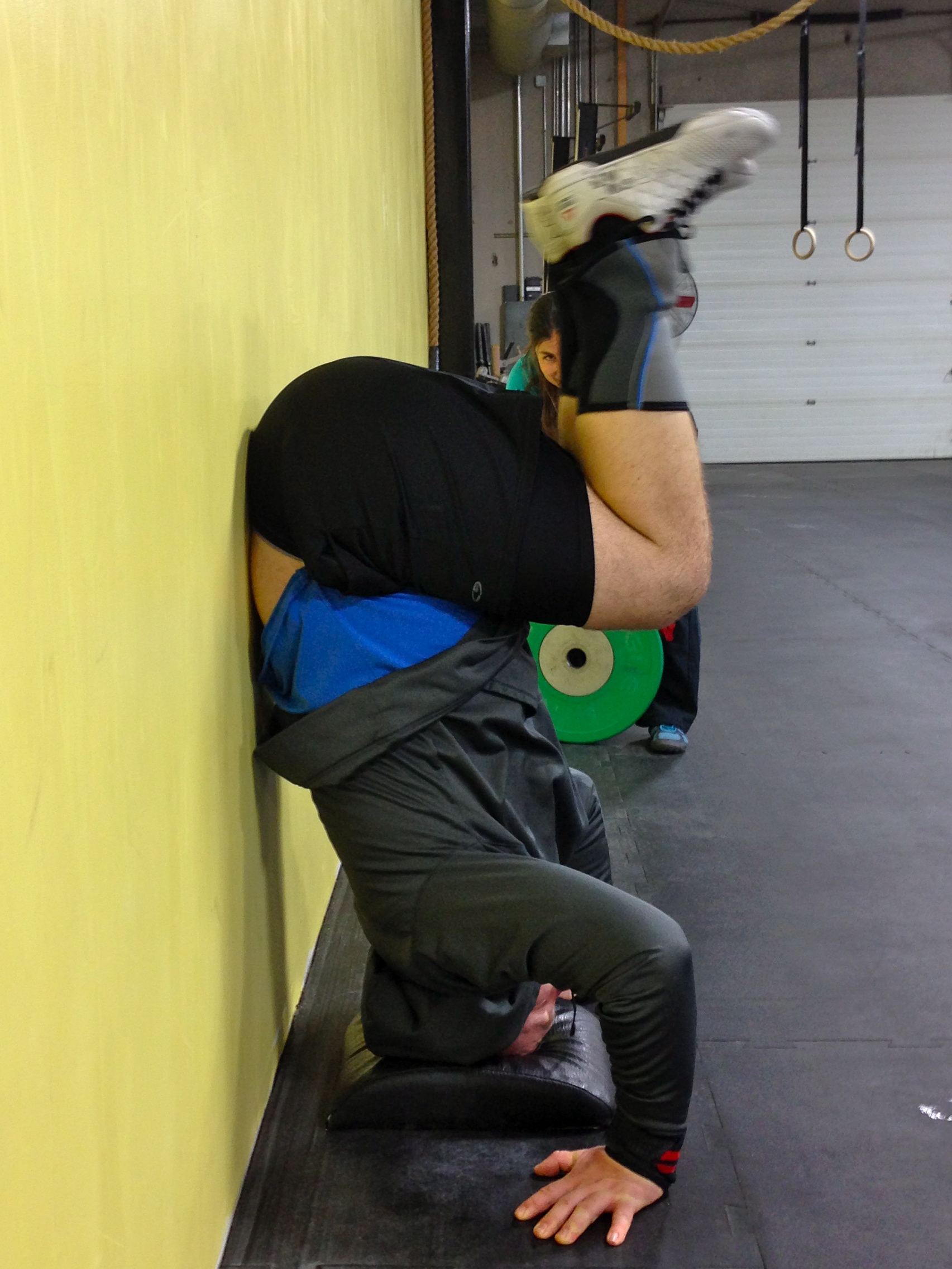 Josh has been working lately at trying to get better at his kipping HSPU. Check out his position here because it's actually really good. Notice how his head is in front of his fingers, therefore forming a stable tripod position (as opposed to his head being directly between his hands which would be very unstable). His hips/low back are leaning slightly into the wall which allows him to lower his knees well below his hips and keep from falling away from the wall. This position will also allow him to not only extend his knees but his hips as well which will create a strong upward force and help to lift himself off the ground as he locks out with his shoulders/arms. Great job Josh!
---
"What should we program for the day after Thanksgiving?"
How about a nice butt-kicker because we all will have just stuffed our faces on the day before and because you may need to blow some steam if you were out fighting the Black Friday crowds early in the morning already. That's why we decided to have our "Finishing Touches Campaign" on that day, November 28 at 9AM.
Moving into, remodeling, building, and bettering Sanctify 3.0 has been a big and costly undertaking and we've been able to take care of all the essentials to make this a well-running and good-looking facility. One of the last things we would like to do, and we've heard from several of you that you'd appreciate it as well, is replace our garage door with a glass overhead door so as to let in some natural light as we move into the winter months when we can't have the door open.
However, that's really costly and we won't be able get it done before this winter with our current budget. Therefore, we want to create an opportunity for you, our Sanctify community, to help us get this accomplished sooner. We'll be taking donations in any amount now through November 28 when we have our "Finishing Touches Campaign." Get in touch with Paul or myself if you'd like to make a donation. You do not need to donate money in order to participate in the workout. At the very least, find a partner, and come get in a great workout with us on the day after Thanksgiving. It'll consist of a "little" partner workout that should be a lot of fun to participate in. Go to this Google spreadsheet to sign up you and your partner to do the workout with us. We'd love to see a big turnout and make this a fun, successful event.
---
Rest Day/Open Gym
EMOMs: The Most Misunderstood Method in CrossFit by Patrick McCarty, Breaking Muscle
These have been programmed a lot lately for both the Fitness and Performance programs. Here is a little insight into the what and why of the EMOM.