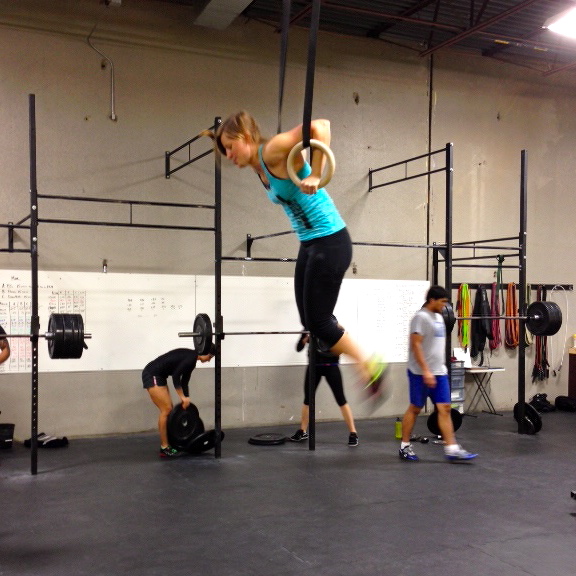 Alyson working through a 3 min AMRAP of muscle-ups on Monday evening. She's been the perfect picture of what you can accomplish if you specify your goals and then put in the time to achieve them. Each month she tells me what her "project" for the month is. This month I believe it's consistent, kipping CTB pull-ups, and I have no doubt that she'll get them!
---
Fitness
A. Clean and Jerk: 15min to build to a 1RM
+
20min AMRAP:
10 Step ups, 24"/20"
5 PC, 135/95
10 Squat jumps
5 alt'g DB Snatch, 50/30
30 DU's
Notes: Post loads and rounds/reps to board.
Performance

10min 85% effort:
Row 150m
8 KBS, 24/16kg
3 target burpees, jump touch 6″ above reach

rest walk 3mins

10mins 85% effort:
25 DU, unbroken
10 reps of [1 each BB front rack forward lunge R and L + 1 push press], 95/65
5 L pull-ups

rest walk 3mins

10mins 85% effort:
AD 20cals
FW 50m, 32/24kg per hand
10 abmat sit-ups

rest walk 3mins

10mins 85% effort:
Row 250m
30 sec FLR on floor (hollow body position key)
5 PS, 135/85
Notes:
– work on maintaining the pace for each block
- record rounds and reps for each set on board