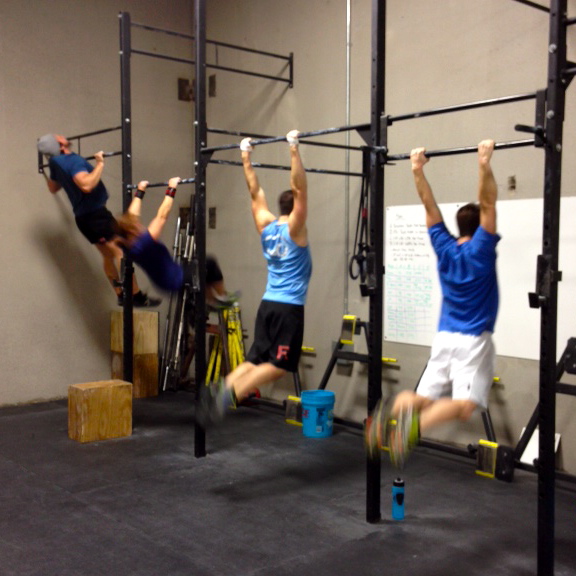 Matt, Deb, Roman, and Mike working through some CTBs.
---
We're going to be placing our next hoodie order on Wednesday at noon so get them in now if you want one!
---
Fitness

A. BS: 10x1, Build to AHAP, 1:15clock
B. DL: 10x1, build to AHAP, 1:30 clock
Notes: If you were here last week you should know what weights you built up to then. The goal this week would be to build just a little heavier than that. However, like always, you shouldn't be trying to just go as heavy as possible, but rather to go as heavy as possible with sound mechanics: full depth and knees out on the squats and a neutral spine on the deadlifts.
+
EMOM x6: 5 ground-to-overhead + 3 lateral burpees over bar, 135/95
Rest 3min
EMOM x5: 5 FS + 10 lateral bar jumps, 135/95
Notes: Barbell weights may be scaled up to 155/105 or down to 95/65 if needed on both EMOMs. Focus on keeping your breathing under control while doing these. As long as the loads aren't very heavy for you (they shouldn't be) you shouldn't need to hold your breath for anything. Be intentional about keeping your breathing rate high during both EMOMs and try to stay below the "red line" for as long as possible.
Performance

A. FS, 3x3, same weight all sets, rest 2 min
+
3 sets at 80%, 90%, 100% effort:
Row 500m
15 burpees
15 CTB pull-ups
15 PC and jerk, 135/85#
85 DU
Rest 4 min between sets

Notes:
– compare 3 rounds to 141217
– show a decrease in time per set
- record FS weight and times per set on board