---
"I've been involved in CrossFit for about two years at other facilities. This is the most detail I've seen coached in terms of the technical aspects of what we're doing. The step-by-step breakdown of the lifts is constantly reinforced and the programming revolves around each piece of a more complex overarching movement." - Dan S.
---
"I feel like I get the attention required to learn this sport. All the coaches are great and I could not be happier. What a comfortable and welcoming experience. I was really nervous showing up to a new gym, but you guys made it really easy. It is deffinitly worth the money as the results are shown quickly. I feel stronger every time I show up." - Ryan A.
---
"Throughout my life I have participated in a lot of different sports and athletic endeavors - from college football, to bike racing, to rec league hockey. As part of that, I have maintained a gym membership somewhere, but I never used it consistently. I was looking for something that was a little more challenging, that had a community that I could be part of, but that would also improve my fitness overall, not just in some specific way. A few of my friends from my days in the military were doing CrossFit, so I started looking into it. After checking out the different affiliates in Madison, I settled on Sanctify for two reasons: 1) the strength oriented programming, and 2) the education and commitment to betterment from the coaches. Since starting at Sanctify, I have truly rediscovered the athlete in myself. I've gone from a barely-mobile former athlete to a somewhat-mobile athlete. All my movements have improved dramatically, and that translates to a greater satisfaction in every day living. Whether it means chopping wood, rowing across a lake in a kayak, or moving furniture for a friend, I can do all that stuff now a hundred times more easily, and not be sore the next day. My growth as an athlete and my discovery of new skills and movements is awesome and all, but what keeps me coming back to Sanctify is by far the people. Sanctify caters to a diverse membership, from college students to old dudes like me. Whatever your primary focus, the general purpose programming and strength foundations at Sanctify will help you improve, and you will be a part of a community of genuinely supportive people. My growth as an athlete and my discovery of new skills and movements is awesome and all, but what keeps me coming back to Sanctify is by far the people. If you've been thinking about CrossFit in general - go try it. Do it. But do it at Sanctify! I've dropped in at numerous affiliates due to my constant work travel, and I can tell you the coaching and programming at Sanctify is unmatched." - Al M.
---
"The biggest thing that CrossFit has done for me is allow me to move and control my body a lot better now. It seems to creep up all the time in regular day stuff, whether it is carrying something or doing some kind of manual labor; you feel different. An example I have noticed is that I tend to squat more if I need to do something near the ground instead of putting down a knee or bending over.The other benefit is that I feel healthier. Outside of a very short lived cold right at the start of the CrossFit Games Open, I really haven't been sick since I started doing CrossFit. For years I almost always had a cold in late fall and late winter with sometimes another in between. I have also had hay fever really bad for the past ten years in the spring and it hardly flared up at all this year. I believe all of this is related to the exercise and eating a healthier diet. I still have some sweets, cheese, bad carbs and other stuff in my diet, but my breakfasts and lunches are substantially improved. Anyway, thank you again for creating this world, this environment, this community for me to be a part of. I feel lucky to have stumbled into Sanctify as my first CrossFit experience." - Kevin H.
---
"I've now been to about 5 other CrossFit gyms. The people have been friendly everywhere, very willing to introduce themselves and make me feel welcome. Some of the facilities have been bigger, some have been smaller; mostly all decent at least. The one thing that's stood out is the coaching. Ours is honestly second to none. The attention to detail on form and the willingness to actually coach everyone thoroughly is something that I haven't seen anywhere else. You guys put thought into the programming and care that we follow through with everything you ask. It makes a huge difference in the experience that I get, and I appreciate it. It's definitely time, money, and effort well spent. Thank you!" - Roman K.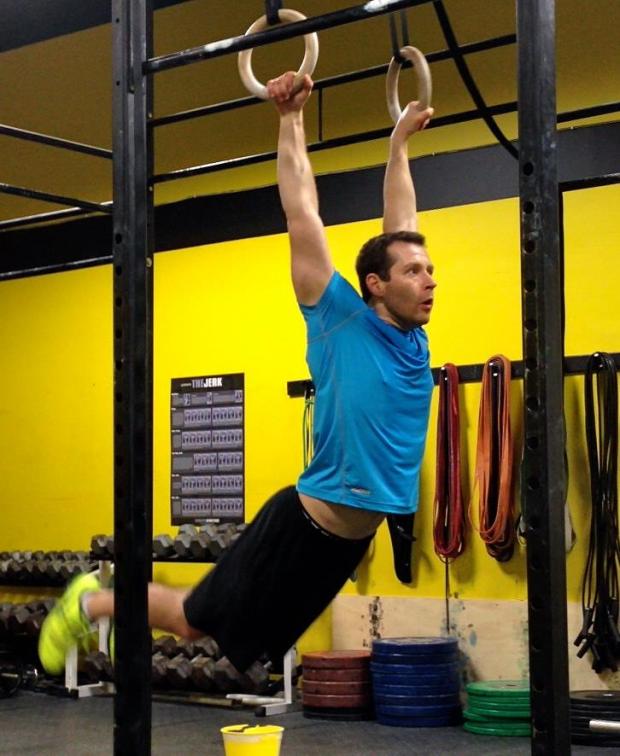 ---
"Sanctify was my first experience with CrossFit. I needed a new workout regime from the normal presses/pushes/curls that I was doing for a couple of years and I chose Sanctify to be that new change. It ended up being one of the best decisions I made in the last six months. The one thing you will realize when you are at Sanctify is the dedication with which the coaches approach each workout. They focus on teaching proper technique and make sure you are getting better at what you are doing. The community at Sanctify definitely needs a mention also; it's great to workout with a group of folks who are always encouraging you and pushing you to do your best. If you are thinking about trying out Sanctify, my suggestion would be to just go ahead and take the plunge. It will be one decision that you'll be glad you made!" - Sury N.